Veslic Abrasion Tester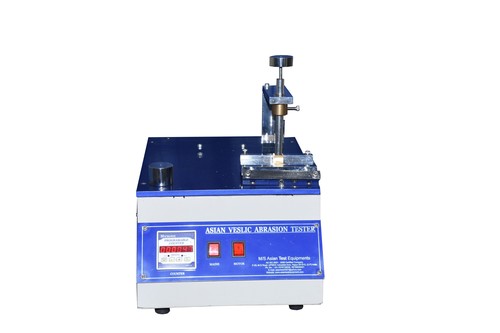 Veslic Abrasion Tester
Product Description
Our perfectly designed Veslic Abrasion Tester are used to determine the level of marrying of the leather surface by carrying a rub Fastness Test on its surface to evaluate the amount of color transfer to the rubbing pad from a sample. The machine offers an easy operation and the keep up is also not so difficult. The machine provides resistance against rust even in the most humid surroundings.
Features:
Cycle counter with auto stop.
Easy adjustment for stretching the material
Easy clamping to hold the material
Finger, of mass 500 g, removable but able to be fixed firmly
Base : 15 mm 15 mm
A device for attaching pieces of wool felt padsto the base
Additional mass of 500 g and a means of guiding the finger when fully loaded (total mass 1 kg) flat on the test piece; motor, gear box, crank and connecting mechanism driving the carriage to and fro, with an amplitude of 35 mm and a frequency of (40 2) cycles/min.