Bursting Strength Tester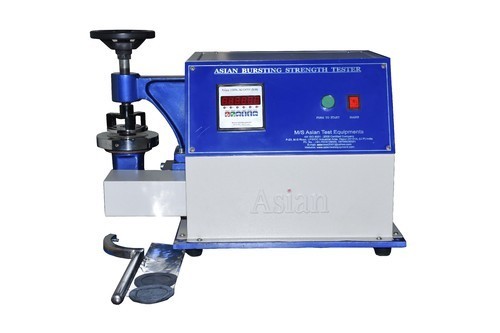 Bursting Strength Tester
Product Description
We are manufacturers, suppliers and exporters of high-quality Bursting Strength Tester, Pneumatic Bursting Strength Tester, Analog Bursting Strength Tester & Computerized Bursting Strength Tester from India. Our Bursting strength Tester is widely used in testing strength under multi-directional force of any material including Fabric, Leather, Paper, Paper Box, Corrugated Box etc.
Manufacturer & Exporter of Bursting Strength Tester.
Manufacturer & Exporter Computerized Bursting Strength Tester
Asian Bursting Strength Tester
Continuously growing in today's competitive market, we are well known manufacturer and exporter of Asian Bursting Strength Tester. Under the strict guidance of our skilled professionals, these equipments are made in compliance with industrial standards. These equipments are immensely used to determine the bursting strength of paper, leather, fabric, paper board & corrugated box. Our Asian Bursting Strength Tester is easy to use and appreciated among our clients for its fine finish, high efficiency and durability.
Technical Specifications:
| | |
| --- | --- |
| Opening in upper clamp. | 30.5mm diameter |
| Opening in lower clamp | 38.1 mm diameter |
| Rate of fluid displacement | 95 cc/ minute |
| T Test fluid | Glycerin |
| Gear Box | Worm reduction type |
| Motor | 220 VAC, single phase induction motor |
Further Details:

Blasting Strength Tester of any material, for example, fabric, cowhide, paper and so forth. Its quality under multi- directional compel and is characterized, as the hydrostatic weight obliged creating satisfactory result of the material when weight is connected at a controlled expanding rate through an elastic stomach.
The 'ASIAN Bursting Strength Tester is intended to discover blasting quality of fabric/calfskin/paper/paper board. A test example is held between two annular braces under adequate weight to minimize slippage. The upper clipping surface which is in contact with the test examples has a consistent winding scores. A roundabout stomach of immaculate gum elastic is braced between the lower cinching plate & weight chamber so that before the stomach is extended by weight underneath it the focal point of its upper surface is beneath the plane of the clasping surface.
The gear is fitted with an engine driven screw instrument, which builds liquid relocation on the lower side of the stomach at a predefined rate. The gear is fitted with a game plan, which consequently cuts down the weight and stops the engine on finishing of the test cycle. A top hold computerized marker gives the blasting weight. (On the other hand a most extreme perusing sort weight gage gives the blasting weight in simple model).
The gear is shoddily intended to give a long & inconvenience free life. The parts are brighter chrome covered or painted in metallic paint to give the analyzer a tasteful appearance.
For leading tests on material where one weight gage does not cover the full scope of burdens experienced with the coveted precision in estimation, an exceptional model fitter with two weight gages with a detaching valve can be advertised. Advanced sort weight gage sort instruments are additionally accessible. Advanced Type Pressure Gage with pneumatic clasping model likewise accessible.
Trade Information
Australia, Middle East, Africa, South America, Central America, Asia